President
Chief Roxana Kennedy
Chula Vista Police Department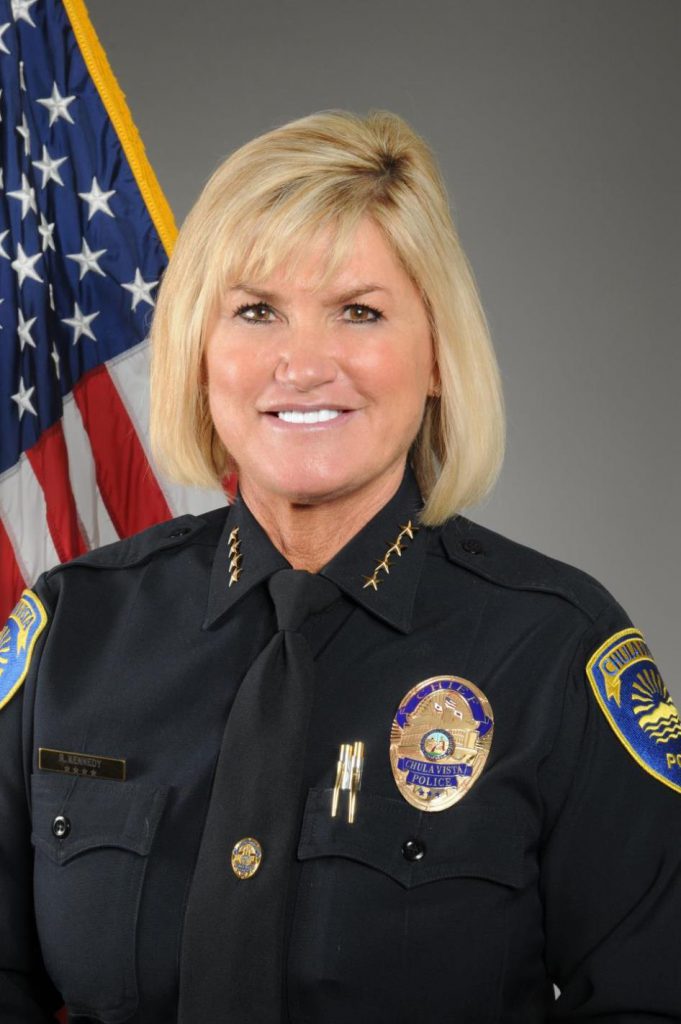 On December 30, 2016, Roxana Kennedy was appointed as the City of Chula Vista's 24th Chief of Police. Chief Kennedy began her law enforcement career in 1992 after graduating from the Southwestern College Police Academy. She rose through the ranks to become the first female Chief of Police for the City of Chula Vista.

As an Officer, Chief Kennedy established a reputation for an outstanding work ethic, professionalism, commitment to the community, and dedication to the job. Her passion for police work and providing the highest quality of service to the community quickly propelled her through the ranks to become Chula Vista's first female Police Lieutenant and then in 2013, Police Captain.

During Chief Kennedy's career, she managed the Patrol Operations Division which is the largest division in the police department and is composed of 67 percent of all sworn personnel. Chief Kennedy oversaw Patrol, Traffic, School Resource Officers, Street Team and Gang Suppression Unit, Community Policing Unit, Community Relations and Crime Analysis. In addition, the Patrol Division also includes canine units, Senior Volunteer Patrol, the Reserve Unit, Crisis Negotiations, SWAT, Mobile Field Force, bilingual services, and mental health assistance in coordination with the Psychiatric Emergency Response Teams (PERT).

Chief Kennedy has worked various assignments throughout her career including Patrol Officer, Street Team Officer, Field Agent, Background Investigator, Patrol Sergeant, Street Team Sergeant, Watch Commander, Geographic Policing District Commander, and Investigative Division Lieutenant. During her career, she served on both the Crisis Negotiation Team and the Mobile Field Force Unit for 22 years, including 12 years as the Unit Commander for each team. In addition, Kennedy directed a very active Wellness/Peer Support Team for the Department.

Under Chief Kennedy's leadership, Chula Vista Police Department (CVPD) has adopted an Innovation Initiative focused on using technology to enhance community safety, increase situational awareness and officer safety, and reduce response times. Chula Vista Police Department is proud to be the first and only police department to work under the Federal Aviation Administration's UAS Integrated Pilot Program "Drone as a First Responder (DFR)" concept which provides real-time data to officers and supervisors allowing officers to make better tactical decisions in the field providing safer outcomes for all parties involved. Chief Kennedy's goal is sharing our story with our law enforcement partners nationally and internationally to help standardize and expand to any agency interested in the benefits. CVPD is also leading another pilot project called Live911. Live911 allows the officers in the field to hear incoming 911 calls and respond before critical calls are processed and dispatched.
Other programs of importance include:
Body Worn Cameras – issued to all uniformed patrol.
Cell phone deployment to all sworn officers.
DeX- pilot program replacing MDC's with officers' hand held smart phones docked in the vehicle.
Opticom – preemptive traffic light CAD integration for responding officers.
Open Data Initiative – To provide greater transparency, build trust, and enhance community engagement. CVPD is proud to be one of the first law enforcement agencies in the United States to participate in the White House Open Data Initiative.
Speakwrite- application based report writing dictation program
State of the art Communication Center

Chief Kennedy has a bachelor's degree in Business Management from California Coast University. She is a graduate of the FBI National Academy, Class #243 and served on the FBI National Academy California Chapter Board of Directors for six years. She is a founding member of the San Diego Chapter of Woman Leaders in Law Enforcement Foundation and served as President for 3 years. Chief Kennedy is currently the Vice President of the San Diego County Chiefs and Sheriff Association. However, what is most important to her, is spending time with her family and friends, and volunteering with non-profit organizations. Chief Kennedy serves as the President of Project Compassion and leads medical mission teams throughout the world helping those in need. She has traveled and lead teams on more than 20 international trips to Uganda, Kenya, Cameroon, Mozambique, Malawi, Kenya, Madagascar, Mexico, Ecuador, and Ethiopia. Helping others is her passion and motivation.
---
Vice President
Chief Chuck Kaye
Coronado Police Department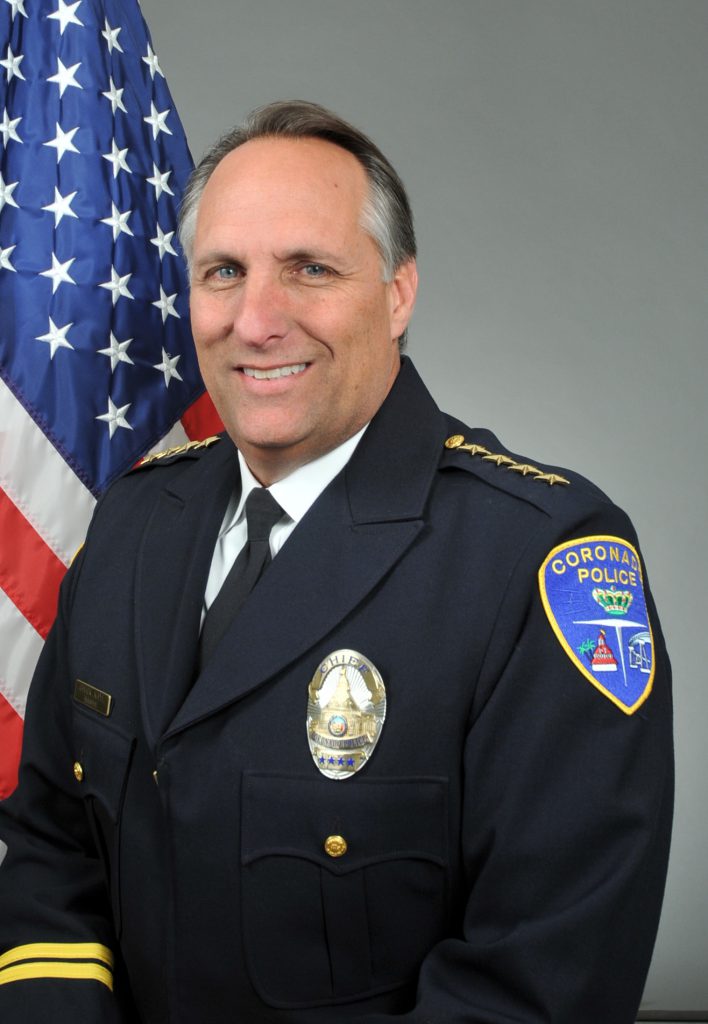 Chuck Kaye was appointed as Chief of the Coronado Police Department on October 22, 2018.

He grew up in San Diego County and graduated from San Diego State University with a Bachelor's Degree in Speech Communication and later attended National University where he earned a Master's Degree in Public Administration.

Chief Kaye began his career with the San Diego Police Department in 1990 and worked a variety of assignments including patrol, administrative, and investigative assignments. He was promoted to Assistant Chief of Police in December 2016 where he was responsible for leading Neighborhood Policing which included Operational Support, the Homeless Outreach Team, Canine, SWAT, Communications, and Information Services.

In December 2017 Chief Kaye retired from the San Diego Police Department and was hired by the San Diego State University Police Department. There he was responsible for the day to day operations of the department.

Chuck is currently an instructor at the San Diego County Leadership Institute, the San Diego Government Training Agency, and the Regional Police Academy.
---
Treasurer
Chief Michael Moulton
City of El Cajon Police Department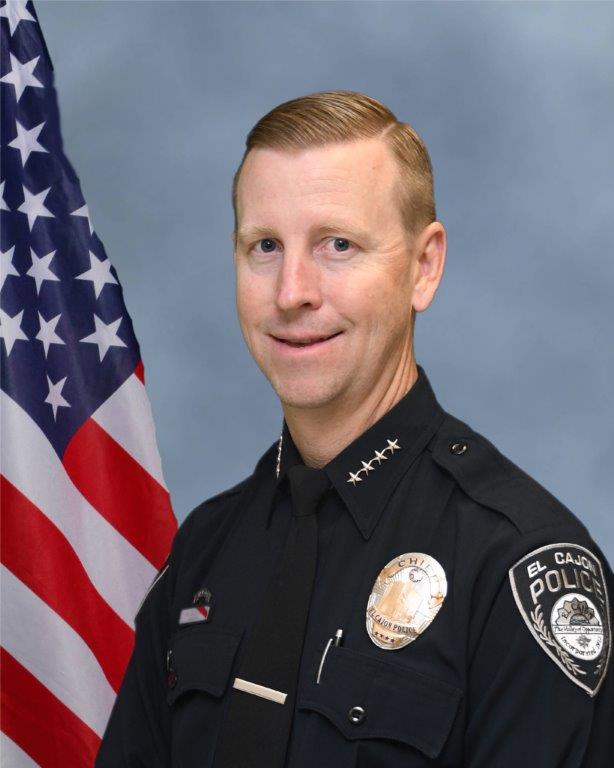 Chief Mike Moulton grew up in East County and graduated with a B.S. in Criminal Justice. He has served with the City of El Cajon Police Department for over 25 years. He was promoted to Sergeant in 2007, Lieutenant in 2012, and Captain in 2015, and was appointed as the Chief of Police in September 2019.

Throughout his career, Mike has served in all divisions of the Department. He was hired as a police officer in November of 1995 and assigned to Patrol, where he also served as a Field Training Officer. He worked in Community Policing, the Investigations Division in the Gang Street Unit and Special Enforcement Unit Gangs. Mike joined the SWAT team in 1997 and served until 2012 when he was promoted to Lieutenant. He was a Sergeant in the Special Operations Unit, and served as the Lieutenant in the Internal Affairs and Inspections Training and Personnel Division. Mike oversaw the Support and Operations Bureaus during his time as Captain.

During his career he has been awarded five Meritorious Unit Citations and the Medal of Valor.

Mike is a graduate of Command College, a program of the California Peace Officers Standards and Training Bureau, and a graduate of the Senior Management Institute of Policing (SMIP), a program of the Police Executive Research Forum. Chief Moulton resides in East County, is married to his beautiful wife, Michelle, and has two wonderful children.
Secretary
Chief Mickey Williams
City of Carlsbad Police Department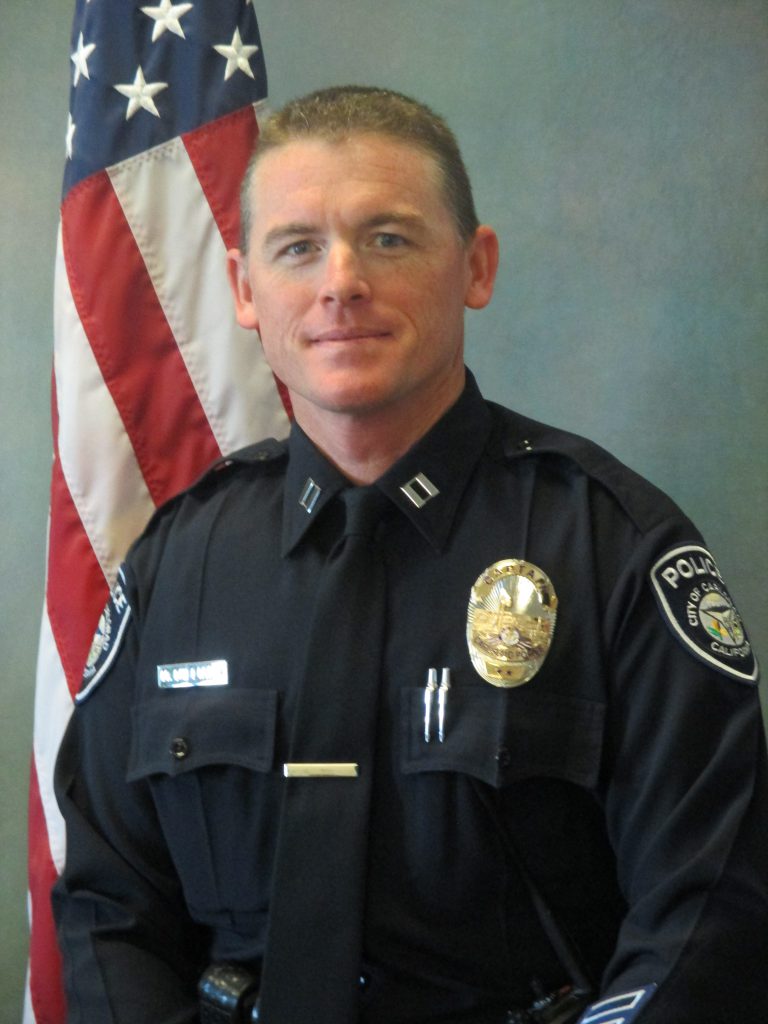 Mickey joined the Carlsbad Police Department in 1995. Mickey has held positions in patrol, crimes of violence, vice narcotics, investigations, traffic, and administration. During this time, he earned his Juris Doctorate Degree and is a licensed member of the California Bar. Mickey has also attended many law enforcement educational programs to include the Sherman Block Leadership Institute, Los Angeles Police Department Leadership Program, and the Federal Bureau of Investigations National Academy.